July 22, 2017
Online - Astrology University
Live Panel Discussion: August 2017 Eclipse and Transits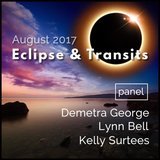 Lynn will participate in a live panel discussion with Demetra George and Kelly Surtees on the August 2017 eclipse and transits. Includes a look at how the eclipse impacts Donald Trump's chart, as well as how to look at the eclipse in your own chart.
Time: 9:00am Pacific Time (convert to your time zone)
November 3-4, 2017
Portland, OR
Weekend Workshop
Lynn will present a Friday night lecture and all-day workshop Saturday. Details coming soon.